The Premier Live Tribute To The Who
Climb aboard the Magic Bus with Who's Next and be transported back to the 60s and 70s heyday of British rock excellence! Experience the power and majesty of one of the greatest bands and live acts of all time courtesy of Who's Next's passionate tribute shows!
Who's Next are the premier live tribute to The Who. They capture a magical point in time when many believed that The Who were the greatest pop and rock group on Earth. Who's Next's live show aims to recreate this period in the early 1970s with the aid of authentic stage wear and instruments. The result is a time machine ride back to the days of Live at Leeds, The Isle of Wight Festival, Tanglewood and the Fillmore shows. It is a must for any Who fan!
Karl Moulden – Vocals
Dante DiCarlo – Guitar, Vocals
Max Edwards – Bass, Vocals
Mike Vishnick – Drums, Vocals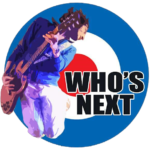 "If you weren't lucky or old enough to see The Who in their heyday, then see this lot! You will not be disappointed!"
The Who were one of the most diverse acts of all time, spanning different genres, looks, counter cultures and fan bases, and as such paying tribute will always be a demanding task! Be it the early mod days, the pop art sensibilities of The Who Sell Out's quirky songs, the earthy Woodstock era who or the 70s prog tinged works, The Who cannot be summed up easily. From the power pop singles to the ultimate albums band with rock operas Tommy and Quadrophenia the band covered a lot of ground and as such a tribute show has a lot of options.
Though Who's Next primarily seek to recreate the late 60s/early 70s era of the band, they have several show themes to offer something for everyone. Have a look at just some of what Who's Next have to offer.
If you would like to book Who's Next – The premier live tribute to The Who for your venue, private function, festival or any event In the UK, drop us an email on whosnextuktribute@gmail.com and we will get back to you ASAP. For European bookings, see below. Thank you.